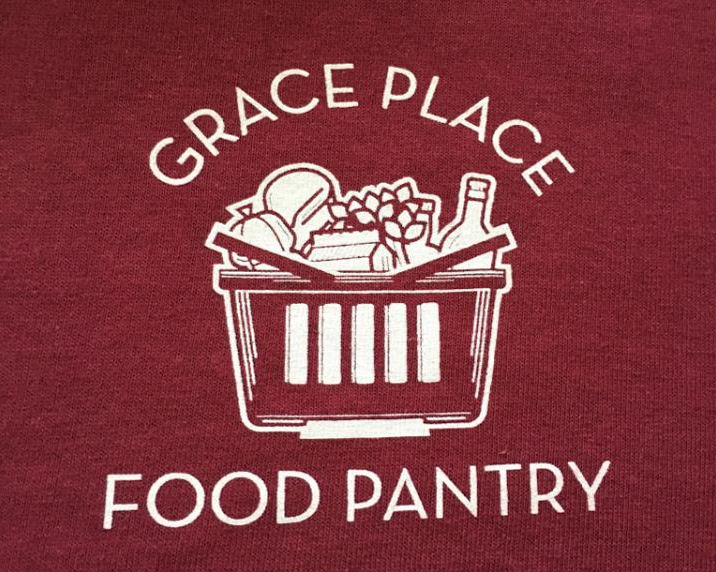 Grace Place Ecumenical Food Pantry
*For contact information on Godmothers at Mission Point Church, Somers Point, please scroll down.*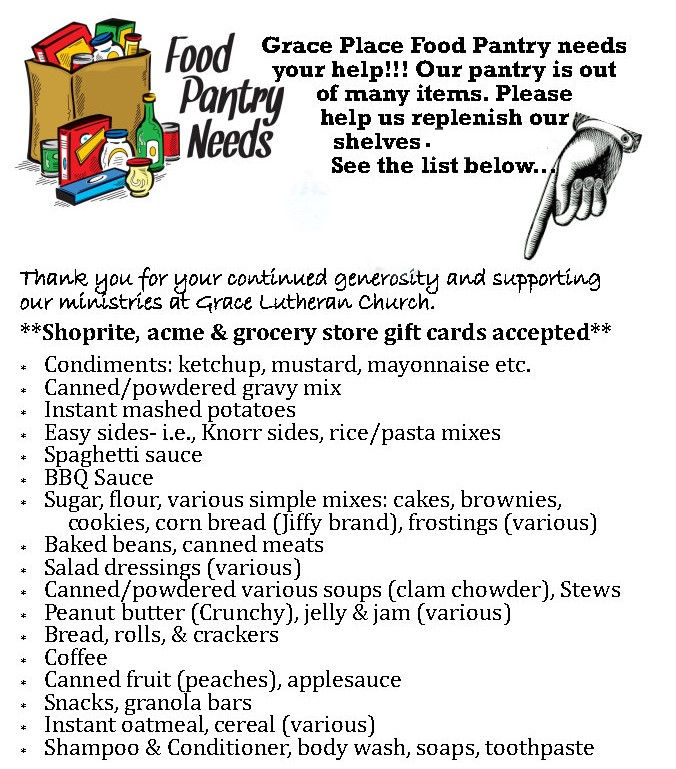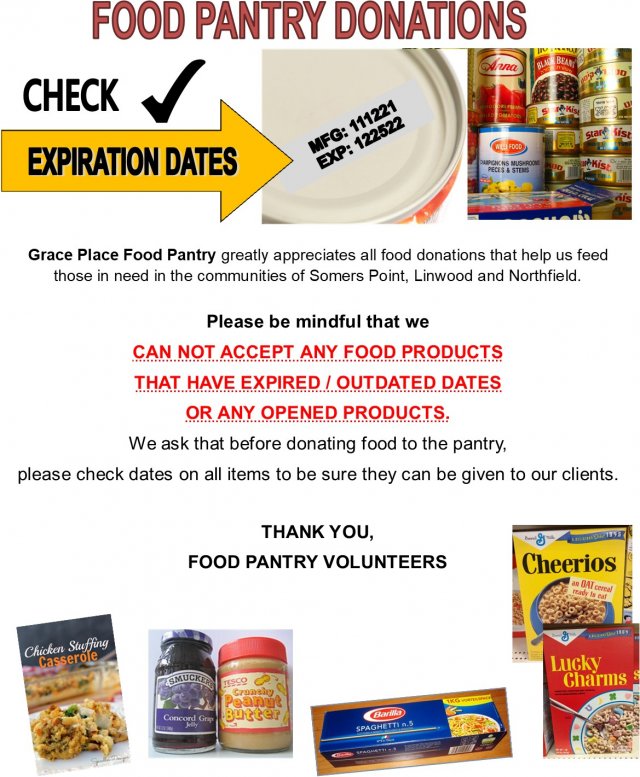 Most needed items: Pasta, Chef Boyardee or other canned meals, instant mashed potatoes, Rice-A-Roni, canned tuna fish, cereal, granola bars, oatmeal packets, ketchup, mustard, mayonnaise, soap, toilet paper.

Grace Place Ecumenical Food Pantry - Serving Our Community
Have you ever had difficulty putting enough food on the table for you and your family? Would you like to help someone who does? Job loss, layoffs, prolonged illness, injuries, and other emergencies put families in our community in that situation every day. Grace Place Ecumenical Food Pantry is dedicated to helping less fortunate families in our area. With very little effort, your help and support can make a big difference.

Housed in Grace Lutheran Church, Grace Place is supported by other local area churches: Christ Episcopal, St. Joseph Roman Catholic, United Methodist of Somers Point, Mission Point of Somers Point, Our Lady of Sorrows, St. Gianna Beretta Molla, Seaview Baptist, and Friends Meeting churches. The main pantry, freezer room, and two storage rooms are located adjacent to Fellowship Hall on the lower level of Grace Lutheran and are staffed entirely by volunteers from the local churches. The Pantry is indebted to the late Mort and Jeanelle B. who coordinated pantry operations for its first 18 years. Many dedicated volunteers have carried on the mission since. Current volunteers include Mike & Kathy, Barbara, Meg, Mike, Aud, Elsamarie, John, Jim, Joyce, and George.

The purpose of Grace Place is to provide food to suppplement families in need within the area of Somers Point, Linwood, and Northfield. In its nearly 30 years of operation, the Food Pantry has provided well over 500,000 meals in addition to distributing food baskets during the holidays. Donations come from individuals, churches of the cities served, local supermarkets, local businesses, and government agencies. Grace Place is always in need of donations to keep up with the needs of our area. Currently the Food Pantry is providing food for over 400 people (adults and children) each month.
You Can Help by donating non-perishable foods, household products, and personal care items. Grace Place is always in need of canned goods (such as soup, beef stew, baked beans, ravioli, chili), packaged goods (crackers, cold cereals, tea bags), and day-to-day items (bar soap, toilet paper). Monetary contributions are also welcome and can assist Grace Place in purchasing discount food items from the Community Food Bank of New Jersey, Southern Branch.

The Pantry is staffed from 9:00 a.m. to 11:30 a.m. Mondays through Thursdays. Grace Place is normally closed on the first full week of the month. Donations may be dropped off during operating hours. If you wish to donate, but Pantry hours conflict with your work schedule, you may drop off donations before Sunday church services in the Narthex or Fellowship Hall next to the Food Pantry. Monetary donations may be mailed or dropped off in the church office.
For further information about Grace Place Ecumenical Food Pantry, please contact the pantry during its hours of operation at 927-9982.